152 MPH Pedal Bicycle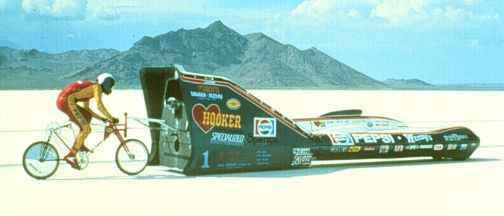 Olympic Cyclist and IRONMAN triathlon winner, John Howard set a 152.2 Miles per Hour speed record at the Bonneville Salt Flats near Wendover, Utah on July 20, 1985. He is drafting in the wake of a 500 Horsepower Streamliner. This type of human powered record is called motor pacing. The pace vehicle was modified by adding a large tail fairing to the 337 MPH record holding Vesco Streamliner. The fairing keeps the wind off John and reduces the aerodynamic drag he is pedaling against to near nothing.

This type of record was invented by Charles "Mile-a-Minute Murphy" who drafted a train to set a 60 MPH record at the turn of the century. A mile of plywood sheets was attached to the railroad ties, so Charles would have a smooth surface. He had to be lifted onto the train just before they ran out of the plywood surface!

The previous record holder at 138.8 MPH set in 1973 was physician, Dr. Allan Abbott, a cycling enthusiast and motorcycle racer.
This is an aerial view of the Bonnevile Salt Flats starting area. The Vesco streamliner and John on his special bicycle are circled in red.