The Zero to 225 MPH in the Quarter Mile Jet Dragster Motorcycle!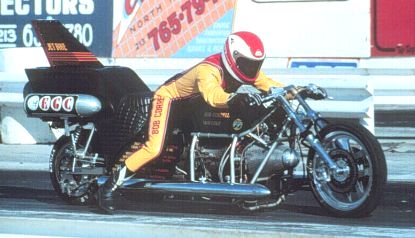 Daredevil, Bob Correll, poised at the start line with his 1,350 Horsepower, 550 pound JET BIKE! Note: intake screen for Jet Engine behind front wheel; small side tanks that carry diesel fuel to make spectacular smoke effects during Bob's "Line Show"; The EGC canister containing one of two redundant parachutes; and the stabilizing fin. We had to design and build a special curved high temperature stainless steel duct to take the thrust up and over the rear tire.The afterburner injection ports and flame holder are near the end of the duct.

Bob, accelerating away on full afterburner!