Robosaurus Show Availability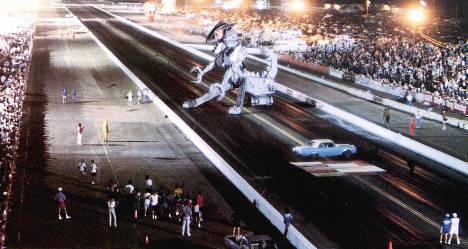 R-O-B-O-S-A-U-R-U-S is hungry!
This was the caption that Firebird International Raceway (just South of Phoenix, Arizona) used in their 10th Anniversary souvenir publication. This is one of my favorite shots of Robo because it gives the best feel for the actual size of the beast. Just look at how small the people look in comparison!! Look how Robosaurus takes up both lanes of the drag strip! Until you actually stand next to it, you just can't quite comprehend how BIG our toy actually is!
Robo is NOT a drag racing machine. It has nothing to do with drag racing. So - what was it doing at a drag race? The answer is the usual - crushing, munching and burning cars. Remember, he's CAR-nivorous! It's called entertainment and our company Monster Robots, Inc.gets paid quite a bit of money to travel to such events and put on a good show! In fact, maybe it's a great show based on what the 10th Anniversary book said on the page reviewing the "best of Firebird" highlights of their past 10 years.
"Robosaurus - No other attraction kept Firebird's fans as spellbound as the 60,000-pound, 40-foot tall, electrohydromechanical monster. You could hear a pin drop as Robosaurus lifted a full-size car 40 feet into the air, chomped it into two pieces then dropped it to the track."

WOW! No other attraction in 10 years! That sure is a nice compliment, especially when Robosaurus has absolutely nothing to do with drag racing! We originally envisioned that Robo would tour solely on the Tractor Pull, Mud Bog Racing, and Monster Truck stadium show circuit and almost can't believe where this Robosaurus business has taken us.
Most surprising, for the last few years, Robosaurus has been performing at more and more Air Shows! Robo doesn't drag race and he surely doesn't FLY, so what is so enthralling to the Air Show fans? These photos tell all!

Yes, that is Robosaurus eating an airplane! Airplanes are bigger than cars, lighter than cars, and tear apart easier than cars! It's FUN!

Two years ago the International Council of Air Shows rated Robosaurus as the number two Air Show attraction - right behind the number one Blue Angels! What is more interesting is the Air Show Posters. Robo has been getting more space devoted to his antics than the Blue Angels to theirs.
The people whom hire Robosaurus confirm there is a definite correlation between increased attendance, their gross dollar income and a Robo appearance. If you are in the kind of business that needs an occasional super draw and can afford the best - EMail Robosaurus pilot and Monster Robots, Inc's President MARK HAYS regarding the kind of show you have in mind. Monster Robots, Inc. can work with you on the business particulars and provide available booking dates. Go to the Official Robosaurus Web Site www.robosaurus.com for more information about bookings.

Robosaurus has done shows all over the United States and Canada. In his transformed state as a trailer he has logged over 200,000 miles on the nation's highways! Robosaurus has also been to Australia twice. Robo was even hired by a huge (rich) computer software company in Silicon Valley to be the Grand Finale at their annual Company Picnic. (MMM - they must have had a very profitable year to afford Robosaurus!). The Simpson's long running prime time cartoon show spoofed Robosaurus in their memorable "Truckasaurus " episode. Even Jay Leno put together a hilarious script featuring Robo on his NBC "Tonight Show".

As dear as we would love to show him in Japan (the home of Godzilla and other terrific fantasy monsters) it may never happen. The primary reason is that Robo was designed right up to the weight limits for driving in all 50 USA states. In Japan, the allowable truck size and gross weight on their roads is smaller - I guess they are afraid we would leave dents in the road wherever we drove our 58,000 pound toy!