GOING ONCE... GOING TWICE... GONE!
On Saturday January 19, 2008 - After 18 years of thrilling crowds all over the world - Robosaurus will be sold at the famed
Barrett-Jackson Auction in Scottsdale, Arizona.

Click HERE to see the Barrett-Jackson Robosaurus promotional video.
Click HERE to go to the Barrett-Jackson catalog page about Robo.
Want to own Robosaurus? Then check out www.Robosaurus4Sale.com
Click HERE to see the Toyota Tacoma TV commercial featuring Robosaurus.
Back in 1998, Robosaurus inventor Doug Malewicki, wrote a section The Future of Robosaurus
that described what he would like to see as a fitting retirement for his Robosaurus Monster. The question still is when Robo is eventually retired "How do we do it with style?" Some people who bid on it intend to keep Robo working and doing the lucrative car and airplane munching/burning shows. Personally, I would still love to see the bidding won by a Museum of Modern Art or Science - such as MoMA in New York - as shown below.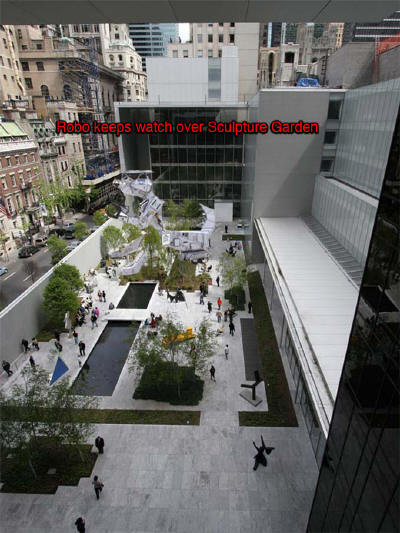 (Click on this picture to see a larger version.)
We have contacted MoMA and other Modern Art and Science Museums around the world to see if we can stimulate interest in their acquiring Robosaurus for their collection. To see more examples of Robosaurus in position at other famous museums click HERE.
Can you think of any other attraction that would attract children
and young adults to a museum as well as Robosaurus?
---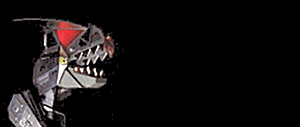 Yes, Folks, that's 10 feet of FLAME coming out of the creature's nostrils!
AND those shiny stainless steel TEETH can clamp down with 20,000 pounds of force!
ROBOSAURUS is the most incredible man made monster ever conceived. He was designed to grip, lift, crush, burn, bite and throw his victims - full size cars and airplanes around with ease! ROBOSAURUS is the largest fully articulated, fully mobile entertainment robot ever built.

This 40 foot tall electrohydromechanical monster robot weighs 58,000 pounds and is totally controlled by a human pilot strapped inside the monster's head - just like the imaginary TRANSFORMER and GOBOT toys.

ROBOSAURUS was invented by Doug Malewicki in 1988. Doug founded a company called MONSTER ROBOTS, INC. and his USA Design and Utility Patents on the machine are assigned to that company. The name ROBOSAURUS also has USA Trademark protection. Robosaurus was built in one and a half years for $2.2 million. ROBOSAURUS did his first show in January of 1990 and has been performing all over the United States and Canada ever since. In 1999 ROBO went to Australia for a second time.
______________________________________________________________________________________________
Click on any picture to see full size

Hello teeny, puny humans from the world's largest monster robot - Norfolk, VA 2003


Burn it, bite it and toss it to the ground!
Robosaurus loves his job!

Yummy - airplane flambé for dessert!

Another Air Show tasty morsel!

March Air Force Base, California 2004
Photos copyright Phillip Toledano